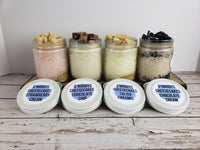 Introducing our lineup!
Introducing our new jars with 20% more cheesecake! Our line up, Chocolate Chip, Salted Caramel, Chocolate Cream, Banana Puddin' and Snicker Doodle!
WE ARE PLEASED TO ANNOUNCE...
D'Nardys cheesecakes in partnership with p10foods is excited to announce we are expanding our presence within Whole Foods. We have been part of the Whole Foods family since August of 2017 and have been available in Raleigh, Durham, Cary, Chapel Hill and Greensboro. Starting February 1, 2021 we will be available in all 48 stores throughout the Southeast including Alabama, Florida, Georgia, Mississippi, North Carolina, South Carolina and Tennessee. This is a tremendous opportunity and we thank Whole Foods for featuring us in so many locations!
Also, find us at...
DashMart-(33 locations) Atlanta, Augusta, Birmingham, Charlotte, Charleston, Chattanooga, Columbia, Huntsville, Jacksonville, Memphis, Nashville, Norfolk, Richmond, Virginia Beach, Wilmington, Winston-Salem,
Jean's Neighborhood Market, Apex, Buie's Market, City Butcher and market, Heritage Farms General Store, Goldsboro, Savi Provisions-The Battery, Atlanta, Smokejack BBQ, Alpharetta, GA , The Veggie Wagon, Carolina Beach
PLEASE NOTE! We are not sure how our outlets maintain inventory, so we recommend calling first to insure they are in stock!
If you have a retail outlet and would be interested in carrying our jars, you can contact me though this website.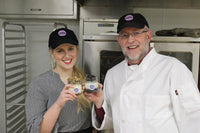 Featuring the finest in homemade cheesecakes, we think you will agree with us, that D'Nardys cheesecakes jars are "Simply the best".  We have over 40 years of experience whipping cream cheese, sugar, and cream together to bring you the finest homemade cheesecakes. Our individually-sized 8 oz. cheesecake jars means you receive the perfect amount of sweet, creamy goodness to satisfy your cravings. Quality and care are packed into every jar, bringing your cheesecake experience to the next level. Even though each jar contains 2 servings, some customers can't resist eating the entire jar! Think you can resist, I'm not so sure...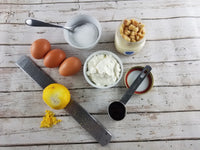 Philadelphia brand cream cheese, pure cane sugar, cage free eggs...
All of our cheesecake jars are made to order offering you a quality treat made with only the freshest ingredients! Cheesecake jars are perfect for weddings, Baby and Bridal showers, Birthday parties, company events or anytime you want to surprise someone with a "Simply the best" cheesecake in a very unique package.

Testimonials
So, while visiting Whole Foods in Charlotte, I stumbled across the cutest package. Figured okay I'll try this. OMG! delicious & the calories are reasonable. Was impressed to see this is a local business.... what an honor to purchase. Can't wait to try a new flavor.

Faye M Raleigh, NC
We ordered these delicious jars for our Christmas family dinner dessert.
They were a hit!! We highly recommend you include them at your next feast! Or just to indulge in yourself.
Snicker doodle, Chocolate Cream, Vanilla and Chocolate Chip were the bomb!

Chip B. Conshocken PA.
These are delicious! I got the Chocolate Cream which has cookies crumbled on top and I thoroughly enjoyed it. I eat low-carb but these are only 5 carbs for 1/2 the jar so they are absolutely worth the splurge!

Rhandy M. Raleigh, NC.
So yummy! Discovered at Whole Foods today - my new favorite treat. Vanilla cream is incredible! Creamy, sweet and salty;) yum!

Jenille H. Chapel Hill, NC
 This is great stuff! I highly recommend the Oreo version! I definitely could see getting these for an office party, client gifts, for showers/weddings/parties of all sorts, for treating yourself after a really long day!

Ann H. Hillsborough, NC
I literally drive over an hour for these cheesecakes!!! They are so delicious and have adorable packaging. It's one of those desserts you eat slowly as you want to cherish eat bite! Super excited to try the eggnog flavor...

Stacey M. Myrtle Beach, NC
Purchased the 4 pack of Cheesecakes. They came well packed in a styrofoam cooler in a box. I live near Philadelphia,Pa. The jars were completely frozen. Can't wait to thaw them out and enjoy! What a great idea!

Bob W. Garnet Valley, PA.
We just received our order of cheesecakes! Our order was delivered on time, the jars are beautiful and shipped perfectly. Snickerdoodle and Peanut Butter were delicious and we can't wait to share the rest with our family over the holidays!! We will order again and often!!

Gail M. Wayne, PA.
I'm not a Whole Foods shopper, so I haven't been back. I went specifically looking for your cheesecake that day.It's the one on Wade Avenue.I will go back, after work, one day this weekend.

Christina A Raleigh, NC